Looking for something to WOW your guests? Then our baked brie with our Vinofood Fig, Apple & Chardonnay Chutney and Balsamic Shiraz Glaze definitely delivers the goods. Serve it on its own or add to a cheeseboard and you will be sure to impress!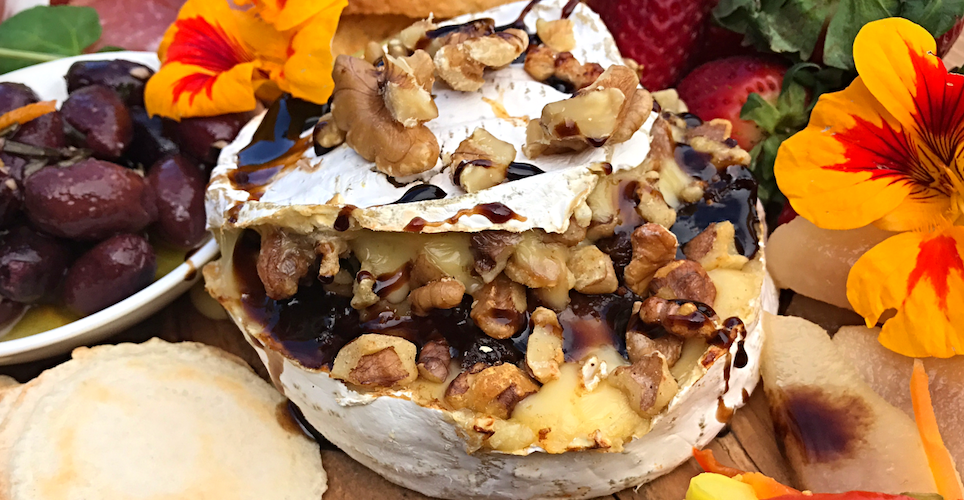 Print Recipe
Baked Brie
Ingredients
250

g

Brie cheese (round)

2

tbsp

Vinofood Fig, Apple & Chardonnay Chutney

6

slices

Prosciutto

2

tbsp

Vinofood Balsamic Shiraz Glaze

1

tbsp

Walnuts, roughly chopped
Instructions
Preheat oven to 200°C/180°C fan-forced

Slice the top off the brie (approx. 5mm) and then take out 1 tsp brie from the centre to make a small hole. Fill the hole with fig chutney and spread over the brie. Put the top of the brie back on.

Wrap the prosciutto evenly over the brie so that the whole round is covered.

Place on a baking tray (on a piece of baking paper). Bake for 15 - 20 minutes or until brie is soft.

Remove from the oven and top with walnuts (you could also add for the last 5 mins of baking so they are toasty) and drizzle with balsamic glaze. Serve on a cheeseboard with your choice of accompaniments.
Notes
TIP: For vegetarians, it tastes just as good without the prosciutto.
Shop the Vinofood products
---