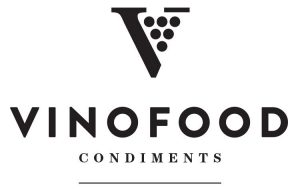 Vinofood blends our two passions – food and wine – into delicious combinations of mustards, jams and jellies, chutneys and relishes, savoury sauces, vinegars and dressings, sweet sauces, chocolates and sweet things, antipasto and syrups.
Hand-made in small batches in our commercial kitchen, our award winning Vinofood gourmet condiments have superb food flavours that are truly a food lovers delight. We use only the highest quality natural ingredients, and all products are free from artificial preservatives and colours and are gluten free.
Developed to inspire with tantalizing farm fresh flavours and convenient meal solutions our Vinofood range can be used to make simple and delicious family meals as well as gourmet dishes to impress dinner guests when entertaining. Vinofoods can turn party snacks into impressive canapés with ease, turn a roast into a tasty feast or make breakfast a delightful start to the day.
Our Vinofood store showcases our complete range. We have complimentary tastings every day as well as featuring on our gourmet vineyard lunches. If you are not able to visit our gourmet food store then you can find our Vinofood products at your local gourmet retail store or purchase direct online so you always have your favorite products in your pantry. They also make a fabulous gourmet food gift, or make into a gourmet hamper and add some wine.
---
Select from our delightful range of sweet and savoury