Elevate your experience with these food and wine pairing tips!
Matching your favourite wine to a cuisine and flavour profile can be complex, but the basics are simple to grasp. A great food and wine pairing creates a balance between the components of a dish and the characteristics of a wine, follow these tried-and-true methodologies to produce consistently great pairings, and as you get more confident, start experimenting!
The wine should be more acidic than the food.
The wine should be sweeter than the food.
The wine should have the same flavour intensity as the food.
Red wines pair best with bold flavoured meats (e.g. red meat).
White wines pair best with light-intensity meats (e.g. fish or chicken).
Bitter wines (e.g. red wines) are best balanced with fat.
It is better to match the wine with the sauce than with the meat.
More often than not, White, Sparkling and Rosé wines create contrasting pairings.
More often than not, Red wines will create congruent pairings.
Riesling
Australian Rieslings are zippy and full of lime and other citrus flavours, offering juicy, appley fruit and lively acidity, with a hint of sweetness. Rieslings are extraordinarily versatile with food.
In general, pair lighter, crisper Rieslings with delicate (or raw) fish; more substantial Rieslings are good with Asian food, chicken, salmon and tuna.
As far as seasonings and sides go, Riesling's crispness and acidities are highlighted by rich and flavoursome vegetables like tomatoes, garlic and onions  as well as a hint of spice like chilli and cayenne pepper.
Our 2020 Premium Reserve Porongurup Riesling features a seamless palate, with initial flavours of green apple leading to a richer mid-palate of more tropical passionfruit and finishing with classic crisp lemon and lime. Pair this with a delicious chicken pasta dish, and stir through our Tomato & Riesling Relish to really enhance the flavours throughout!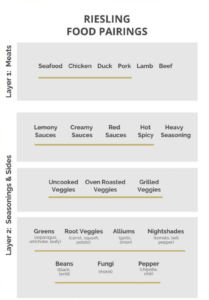 Shiraz
Australian Shiraz (also known as Syrah) creates medium to full-bodied wines with varying flavour profiles and structure depending on region, climate and winemaking techniques, it is typically sweet, so pairs really well with big, bold flavours.
In general, pair Shiraz with heavier red meats; roasted beef, grilled lamb, stews and barbecues.
For seasonings and sides, Shiraz perfectly compliments a cheese board, especially hard cheeses like a cheddar or a mellow blue cheese.
Our 2018 Premium Reserve Frankland River Shiraz boasts initial flavours of black cherry and blackcurrant, leading to a rich complex mid-palate of liquorice and dark chocolate and subtle spiced savoury notes. We recommend pairing this with a cheeseboard featuring cheddar, blue cheese, and the complimentary sweet flavours of our Figs in Shiraz Syrup by Vinofood.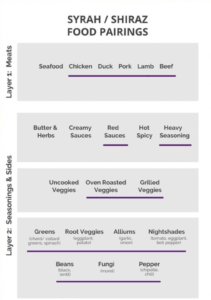 We hope you've enjoyed this introduction into wine pairing with some of our favourite Lake House Denmark wines, the more you practice the art of wine pairing the more it'll become second nature!
Fabulous Food and Wines to Pair.
---